Space
About the TK
A Home for Artists
The Tashiro Kaplan Artists Lofts opened in June of 2004 to provide 50 units of affordable housing and creative space to artists and their families. Developed by Artspace Projects, Inc., and funded by public and private entities, it represented a major community effort to maintain artist spaces in the historic Pioneer Square neighborhood in Seattle. View the full list of partners here.
Galleries & Work Studios Too
The Tashiro Kaplan Artist Lofts building also houses 28 commercial arts related entities, including the non-profit agency 4Culture, individual artist work-only studios, artist exhibit co-ops and some of the most prestigious commcercial galleries in Seattle.
A Central Hub on the Artwalk
The TK  is fast becoming a one stop center for visual art and other cultural activities, especially during the monthly First Thursday Artwalk in Pioneer Square.  Along with huge crowds, the venues in the building play host to both planned and impromptu arts events and happenings.
Facilities
The TK offers two building-run galleries for exhibits, as well as a 110 person capacity community room (Our VCR) for events. The galleries provide exhibit venues for artist residents and tenants as well unrepresented and emerging artists in the area.  The community room is available for non-profit events and meetings for a small fee.
Press Coverage
US Department of Housing
Seattle Times | 12/5/05
Seattle P-I | 4/1/05
Seattle P-I | 6/3/04
Seattle Times | 6/1/04
Tashiro Kaplan Building History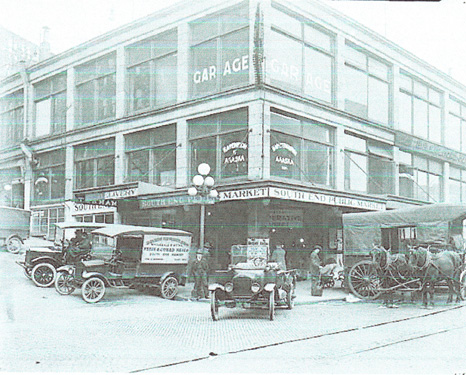 Tashiro Kaplan building in 1919
The Kaplan portion of the TK housed a variety of concerns over its nearly 100 year history, including a farmers market as pictured here, multiple businesses and social services as well as artist's studios.  Some occupants of those studios returned after the building's resurgence in 2004 to lay new claim to spaces in TK Studios.
Remnants of the old South End Public Market may be found via an underground tour of crawlspaces.  Still extant are sign paintings, including a pointing hand directing customers down a ramp to the market's stalls.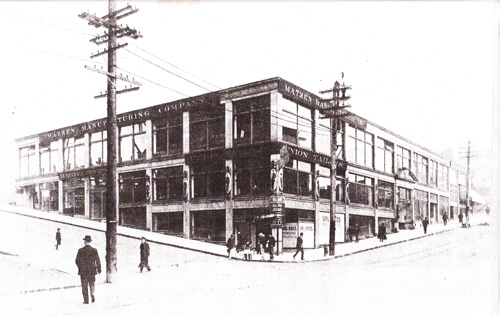 TK in the early 1900's
This shot, I believe, is from a bit later date than the previous.
Not pictured is the Tashiro Hardware company that occupied the northern triangular section of the building for nearly 50 years.
TASHIRO KAPLAN ARTIST HOUSING PROJECT
City of Seattle Gregory J. Nickels, Mayor
King County Ron Sims, County Executive
State of Washington Gary Locke, Governor
Financing
US Department of Housing and Urban Development
Washington State Housing Finance Commission
City of Seattle Office of Housing
Paramount Financial Group, Inc.
RBC Dain Rauscher, Inc.
Glaser Financial Group, Inc.
US Bank
State of Washington Housing Trust Fund
Impact Capital
Funding & Foundations
State of Washington-ArtsFund/Building for the Arts Program
The Allen Foundation for the Arts
Cultural Development Authority of King County
South Downtown Foundation
The Seattle Foundation
Washington Mutual
US Bancorp Foundation
Raynier Institute & Foundation
Developer—Artspace Projects, Inc.
Pioneer Square Community Association
General
Contractor—Marpac Construction LLC
Project Team—Architect: Stickney Murphy Romine Architects PLLC
Structural Engineer: Coughlin Porter Lundeen
Mechanical Engineer: Sider & Beyers Associates
Electrical Engineer: Atkinson & Associates
Landscape Architect: Fredericks Landscape Architecture