Monthly Archives:
November 2016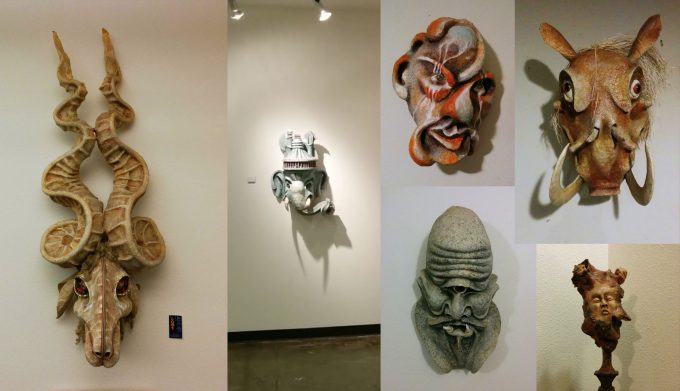 TK Lofts Vandenbrink Community Room
First Thursday, January 5, 2017, 5-9pm
Saturday, January 7, 2017, noon-5pm
Opening Reception: First Thursday, December 1, 6-10pm
Saturday, December 3, noon-5pm
Sunday, December 4, noon-5pm
Please join the TK community as we honor long time resident Roger Wheeler with a grand retrospective exhibition and sale. Nearly 50 of Roger's charming and fantastical works will be on view, including sculpture, painting, and masks.
Roger is currently in the midst of a long hospital stay, and is facing significant changes to his way of life going forward, including the need for dedicated care. Roger is much beloved in the TK community. When we asked him how we could help with his artwork, he said, "Sell it, I want it all to go!" And that's exactly what we're doing with this retrospective exhibition.

Roger has dedicated his life to art making and community arts activities. Before moving into the TK in 2004, Roger was a long time resident of the Fremont neighborhood. He is a founding member of the Fremont Arts Council, and helped spearhead many of its projects, including the annual Solstice Parade, the Fremont Fair, and weekly markets. Many of his striking masks, which he began creating for use in the parade, will be on view in the exhibition. Works of all sizes and in all price ranges will be available.
Please share this opportunity to celebrate Roger widely! We wish to reach as many people as possible who have worked alongside him throughout the years, as well as those who are appreciative of the life long community contributions of artists like him.
Roger's website: http://maskmadness.com/

With the Holidays coming up, you may want to consider some offerings from local artists instead of or in addition to what the larger stores have to offer. Here are some ideas from Juan Alonso Studio!
Holiday Hours
Saturday, November 19, noon-5 pm.
Saturday, November 26, noon-5 pm.
Thursday, December 1, 5-8 pm
Guest artist Gabriel Marquez
Saturday, December 3, noon – 5 pm.
Book signing Hola & Goodbye by Donna Miscolta
Saturday, December 10, noon – 5 pm.
Guest artists Nia Michaels & Gabriel Marquez
And of course, by appointment 206-390-4882
Juan Alonso Studio
306 S Washington St., Studio 104
Seattle, WA 98104
Gift Guide
Special Offering
A salon-style evening at Juan Alonso Studio for up to 12 people including sparkling wine and light hors d'oeuvres to be scheduled at a mutually agreed date/time. Courtesy artwork prices for attendees. Local distillery pairings optional. $850-$1500
Donation Drive
Also, I am joining with Project 106, just around the corner at 106 3rd Avenue S. to collect donated items for PSKS. For a list of needed times please go HERE.
I will be collecting items and/or checks made to PSKS during my open hours listed above.
Drop off times at Project 106: Friday and Saturday, Noon-5pm and during the Pioneer Square First Thursday Art Walk (5-9pm).
Credit cards accepted and no-interest lay-away plans available on request.