First Thursday
December 1, 2011
5pm to 10pm
100 Artists completed 30 8 x 10 inch artworks in 30 days
See the resulting 3000 Originals, one night only
All work priced to go at $40 each
Vandenbrink Community Room @ the TK Lofts
115 Prefontaine Pl. Seattle, WA. 98104
Free Admission, All ages,.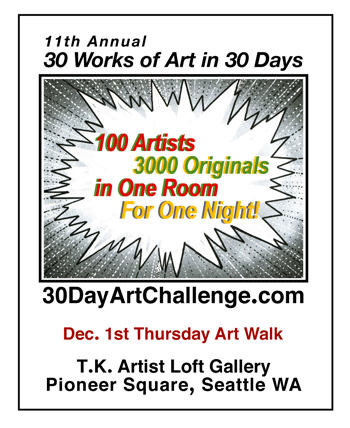 Come discover what imagination has brought this year!
Over 100 local artists created over 3,000 original paintings,
drawings, photographs, silk screens and so much more…
decking the halls of the TK Gallery on Thursday Dec. 1st.
The 30 Day Art Challenge Annual Gift Sales Event
will be creative, inspiring, and great fun for all.
All original art is available as unique and affordable gifts
for the holiday season this year.
Help Support Our Local Seattle Artists!
This entry was posted on Wednesday, November 30th, 2011 at 10:08 pm
You can follow any responses to this entry through the RSS 2.0 feed.
Posted in: Uncategorized